Eduardo Anitua
Doctor en Medicina y Cirugía. Especialista en Estomatología
Director del Instituto Eduardo Anitua, Instituto de investigación básica y aplicada y Centro clínico y de formación en Implantología oral y Terapia regenerativa. Director científico de BTI (Biotechnology Institute).
Artículos publicados
Autor:

Carlos Flores
Sofía Fernández-de-Retana
Beatriz Anitua
Narrow dental implants are commonly used to restore narrow alveolar ridges. Although the good performance of narrow dental implants supporting multiple prostheses has been repeatedly demonstrated, there are few studies analyzing their performance in a long-term follow-up together with the influence of the loading protocol. Thus, the objective was to assess the influence of implant loading protocol (immediate vs delayed) on the long-term outcomes of 3.0-mm-diameter dental implants supporting fixed multiple prostheses.
Leer más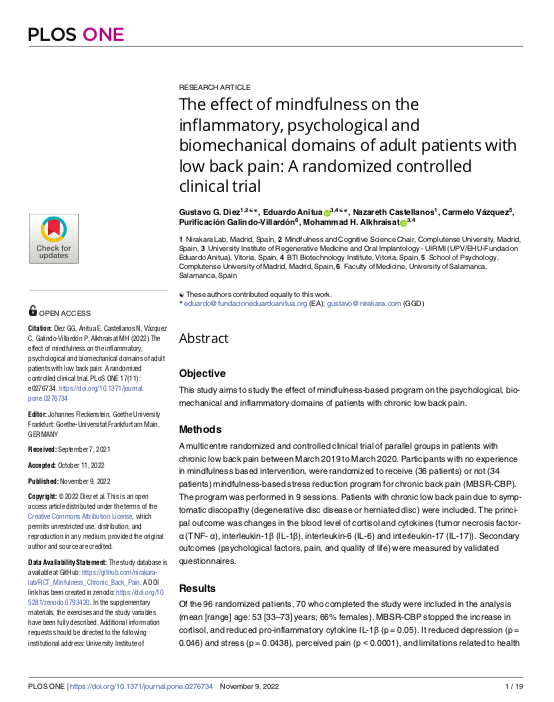 Autor:

Diez GG
Castellanos N
Vázquez C
Galindo-Villardón P
This study aims to study the effect of mindfulness-based program on the psychological, biomechanical and inflammatory domains of patients with chronic low back pain
Leer más
Autor:

Naiara Larrazabal Saez de Ibarra
Iñigo Morales Martín
Luis Saracho Rotaeche
The application of the counter-torque technique has been proposed as a conservative and atraumatic alternative for the explantation of nonmobile dental implants. The objective of this report is to assess the performance of this technique in a large number of patients.
Leer más
Vídeos disponibles en BTI Channel
Además de esta pequeña muestra en BTI Channel podrás ampliar tus conocimientos en implantología oral, medicina regenerativa y apnea del sueño.
Accede a BTI Channel